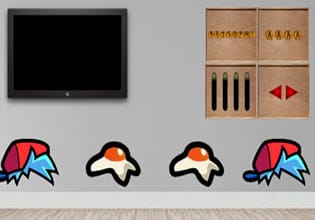 Among Us Escape
There was this very smart and skillful Among Us player and Carlo was very intrigued with this guy to the point he slightly took a look at his info after he made a mistake in giving his name, that was enough for Carlo and he is lucky that he was not at all a bad guy, he was just in awe of what this guy can do. When he tried to find-out who the person is, he was stunned!
Carlo realized that the person was his old friend and really, he forgot about him for quite a while, it's only when he saw him that the memories started to come back. And so, Carlo talked to his friend with everything until topics went back to the Among Us game, it went even further up to the point when Carlo asked to visit him, his friend obliged in a specific date and time passed, he finally arrived at his friend's house. Little did he know though, he arrived just at the right-time for his friend there was actually in trouble! Escape players, you will be fixing a problem here in Carlo's shoes for his friend, want to find-out what happened and see if you can help? Come and join in with us here then and see what you can do!
Among Us Escape is a brand new point and click indoor rescue escape game from 8b Games.
Other games by -
Walkthrough video for Among Us Escape