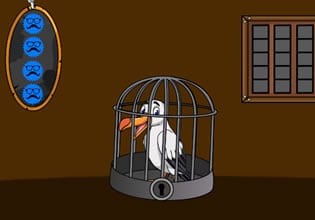 Albatross Bird Escape
Now the albatross that has this secret missive somewhere on its body have finally arrived at Ricky's home, now it's time to find the key to it for the cage so he can get the bird out. That missive is very important, for that could herald a great start for the country here and it's so secretive that it had to be passed through this method to avoid getting intercepted. Ricky tried to find his key there but as he did so, he couldn't locate it. He could have sworn that he had kept it in one of his receptacles, but now it's gone!
Ricky is kind of confused here, but this had started to give him a suspicious feeling for they could already be on to him. He needs to be extra careful here then, for that he'll keep finding that key but this time with eyes and ears open. Escape players, Ricky here is going to try and find the key to the cage of the albatross which it came with to his home. Will you be of help here so that he can finally free that bird and get the missive from somewhere in its body? First let's just get the bird out now by finding that key.
Albatross Bird Escape is a brand new point and click item retrieval escape game from Games 2 Jolly.
Other games by -
Walkthrough video for Albatross Bird Escape