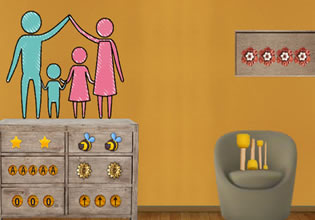 African Boy Escape
Try this game here escape players, enjoy! African Boy Escape is the newest point and click rescue game created by 8b Games for more fun with us. Best of luck!
In the suburbs where a lot of nationalities live, Merle has all of this sets of friends and even though none of them are of the same ethnicity, they still get along and enjoy each other's company. One day, Merle had nothing to do so he just went outside to be with his friends, but unfortunately none of them were available except his friend Will who was was an African. That kid can be a bit short on fuse and sometimes gets angry, but still he's good company.
Merle arrives at Will's house and somehow, there seems to be nobody in the place but the doors are mysteriously open, Merle enters the home of his friend and there he heard the call for help! Will was actually trapped in a room somewhere in his house and because he seems to be alone in the place, he couldn't get help from anyone. It's a good thing Merle came over, but will he be able to rescue his friend Will from being trapped? Escape players, you can try the rescue adventure here with Merle, use the best of your skills to make the rescue successful. Have fun!
Other games by -
Walkthrough video for African Boy Escape