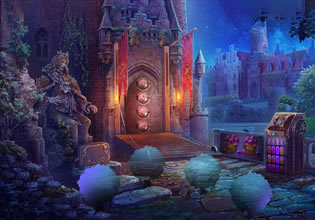 Adventure Young Man Escape
Old man Randy granted this young man entrance into their village that night. Randy have seen many of his kind before, this one was another adventurer just seeking refuge for the night, of course Randy was happy to shelter him for he seems okay and of course with a little something too, also there are no more villages up ahead for miles and it's going to be a tough journey. There was a little delight in the man's face as he was granted shelter, now he is in one of the houses there which Randy directed him to go and stay in. After a while though, Randy heard a call for help and it was coming from the house where the new guy was!
Randy came and then that's when he realized that the man was trapped in his own cabin! He almost blew a chuckle for it looked silly to him, but he is going to help first for the man seems to start in losing his cool now. Escape players, will you help old man Randy here free the young adventure from being trapped?
Adventure Young Man Escape is a new point-and-click house rescue escape game developed by Games 4 King.
Other games by -
Walkthrough video for Adventure Young Man Escape