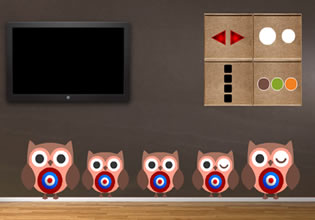 Actor Escape
Silvia's friend works as an actor at the well-known opera house in the city and she got invited to the play as his valued guest! That means front-row seat and she happens to like the opera. But the actor needs only one thing though, and that is a ride to the opera house which of course Silvia accepted. The day of the play arrives and Silvia went to her friend's house early, she called for him but unfortunately no answer, maybe he overslept? That's not good for it'll bring less energy throughout the day instead of the opposite, and so Silvia decided she'll wake him up but then unfortunately, she heard him from inside one of the rooms in the place and he was actually trapped in there!
Silvia got startled a bit at first for she doesn't know what's happening, but then when she got it she quickly moved to help her friend. Escape players, the house is not easy to make a rescue into for Silvia is also taking caution of potentially breaking things in there for the rescue, but with your help she might be able to make it before the show starts. Come and help Silvia here rescue her friend who was trapped in his own house before things gets worst.
Actor Escape is another new point and click house rescue escape game made by 8b Games.
Other games by -
Walkthrough video for Actor Escape