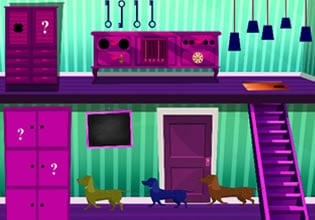 Abode Escape
Some challenging house here which Agatha needs to solve. Even though the house for her really looks like a life-sized dollhouse, it seems that her father have bought her indeed a dollhouse but with a little twist with it. The house was not too small for Agatha not to fit in, she was able to go inside and look around, it was great actually and cozy. But as she was getting comfortable in her huge toy of a dollhouse, a problem seems to have come, and that problem is she can't get herself out!
Agatha called for her father then for she is in trouble, but it seems that he is not present nearby at the moment, well nobody is actually! For somebody should have helped her when she called. Okay, guess this is the twist now that she needs to tackle, and she will for she doesn't see herself as helpless, she is old enough for this but of course as a kid, she is going to need a little help still. Escape players, will you be that help which Agatha needs her? Just solve some puzzles and use items that can help tinker with the doors there.
Abode Escape is the newest point and click miniature indoor escape game from 8b Games and Games 2 Mad.
Other games by -
Walkthrough video for Abode Escape