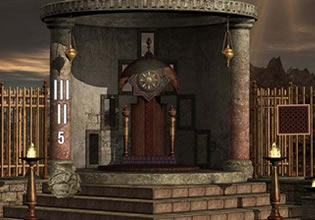 Abandoned Temple Escape (365 Escape)
This abandoned temple still contains a lot of mysteries, and one of them was even though nobody really lives there, signs of people going in and out of there can still be found. The weirdest was even though the place is dark, from a distance people can see lights from flames in torches that are obviously not lit as they know of can be seen from afar. As a researcher there who is studying the place but got accidentally lost, Moe might have met one or two of these mysterious things in the place.
As Moe was trying to find his way out, suddenly the place became alive! Everything was like it was back in its glory days and the torches there are now lit. So far, he sees no people yet, but even though he is interested on that he decided to just maybe continue in finding his way out for this seems a little too much for him now. Escape players, Moe is finding it difficult to escape however and he really needs help there. Would you like to assist then so he can get free from this ancient place and hopefully from this weird time-traveling effect too?
Abandoned Temple Escape is another new point-and-click ancient place escape game made by 365 Escape.
Other games by -
Walkthrough video for Abandoned Temple Escape (365 Escape)