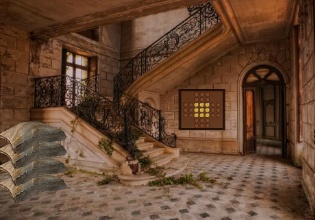 Abandoned Estate Escape
You're out searching for the most abandoned estate you can find. You need it for your filming. Your project is about a film featuring abandoned places. You're still thinking of a possible plot. But while looking around, you can have inspiration popping in your head. So most of the time, you have to sit down inside an abandoned building and write. You write your ideas immediately after they enter your mind. You can easily forget them and not remember anything at all. But when it's in your notebook, even just the first word can remind you of the rest. You stop by a cafe for a drink. The chocolate drink tastes like ice cream and you can't help but ask the staff. One of them tells you the story behind this cafe. The owner of this is the owner of an abandoned estate nearby.
The staff informs you that the inspiration came inside the abandoned estate. But the owner needs to leave it to put the plan into action. You like the story behind it though you want to know more. So you step inside the estate. You move in deeper to get a glimpse of the things if there are any. But the door instantly closes behind you. And some strange thoughts are playing inside your mind. It's like you have no control over it. Play Abandoned Estate Escape room escape game by Games 2 Rule.