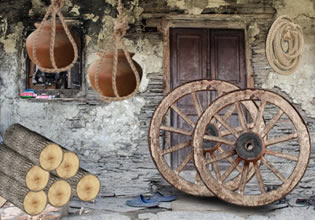 Abandoned Dilapidated House
You are working at the restoration company and your job is to restore old houses. Your firm is in demand because of the quality service that you give to your clients. You always see to it that every client is happy with the outcome of your work. But not only that, you also make sure that everything is safe before you start the process. The first thing that you have to do is to check the house and find something that you need to reconstruct. However, this next project is different from the rest. This is the most dilapidated house that you're about to work on. As you inspect the abandoned house, you saw a small wood blocking the way. So you pulled that tiny wood to clear your path but as you pull it, the other big woods connected to it also dropped.
It was like a domino effect and instead of clearing the way, you got trapped. You have to find a way to escape from the Abandoned Dilapidated House. There are objects in the room that you can use to unblock the way. Play Abandoned Dilapidated House outdoor escape game from First Escape Games and find those hidden items! Best of luck!