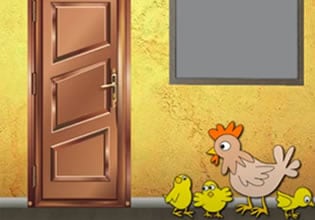 Abandoned Cat Escape
Carol went to her friend's home for she would just like to visit her after a while of not being able to, and so she went unannounced and expected her friend to just be there even though she is slightly doubting that, but lucky for her she wasn't out, and lucky for her friend that she came for at the moment there was a problem there in her place!
Her friend was definitely unsuspecting of her arrival, that's why she wasn't really able to prepare anything there. Carol saw her trying to pry open this door so she asked what was happening? Her friend told her then that her new cat which she rescued from the streets was now trapped inside this room she was trying to open. What's weird about that was this door of hers doesn't really have the best lock so it doesn't lock, but now it is doing just the opposite. Escape players, imagine you are Carol here on the spot now, will you be able to help your friend in rescuing her cat from being trapped in that room?
Abandoned Cat Escape is a brand new point and click pet rescue escape game from 8b Games.
Other games by -
Walkthrough video for Abandoned Cat Escape