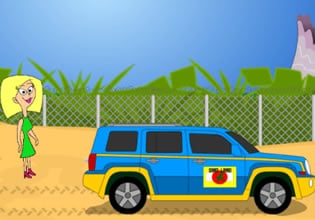 3rd Grade Field Trip Dino Land
Tory and her classmates together with their teacher went to dino land for a field trip! It was going to be extra fun and because none of them have been to dino land before, they were all excited. Tory was too and throughout the day, it was crazy fun! They ventured through dino jungle and different play-pens which were all in the concept of dinosaurs' world, not to mention the snack bars there too. Everything was good but well things are not really perpetual, even their visit there that day which will now come to an end. Even so there was a problem with that too, for it seems that they cannot navigate out to where the bus is and also their bus haven't even arrived yet!
Escape players, Tory is going to guide her classmates accordingly and help their teacher, for she is class rep and well her job such as this definitely requires her to do so. Tory needs a little help here as well for some of her classmates weren't so cooperative than the rest. Will you be able to help then just to guide everyone out of the park complete and safe?
3rd Grade Field Trip Dino Land is a new park escape game developed by Selfdefiant.
Other games by -
Walkthrough video for 3rd Grade Field Trip Dino Land