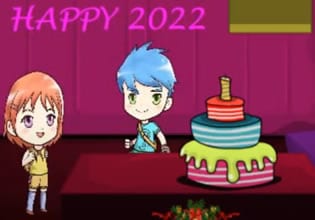 2022 New Year Final Episode
Joe and Jack now has the motor they tried to get and their parents did not wake-up in their ruckus! They are seriously getting themselves in deep trouble here, but it is done now and they both need to carry this out. On the way though, Joe and Jack decided to maybe get a cake to the party so that they'll have a little something something also for everyone. Okay, a cake they need to get it is!
Escape players, Joe and Jack have no idea where they'll get this cake though, that's because they are far from the city and the night is getting deep, which means shops there in the immediate area are now closed. Will you help them then so they can be at the party as soon as possible? Go ahead then, help them find a cake here so they can bring it to the new year party. This might be the last task for this series so enjoy this final adventure with Joe and Jack.
2022 New Year Final Episode is another new point and click item retrieval escape game made by Games 2 Live. This game is a continuation of the previous one as its sequel, and is a part of the first game as the start of the series.
Other games by -
Walkthrough video for 2022 New Year Final Episode