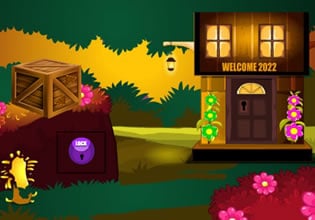 2022 New Year Episode 1
Joe and Jack really wanted to celebrate new year's day with their friends, so they did what their parents didn't want them to do, and that is escape from their house in the dead of night and go to their friends! They successfully did that and they arrived at their meeting place which was at the abandoned house in the nearby wilderness. At first the two were okay as they wait for the others, but then an issue occurred and that absolutely caught them off-guard!
They got trapped in the house for this grilled doorway was now locked and they couldn't budge it open! This is bad now for there is no other way out of there but through this path, and they have no idea how to even open this thing! They shouldn't have entered this room here and maybe just waited outside, but this problem is happening already so they have to solve it. Escape players, Joe and Jack here are trapped and they need help, but because there is nobody else in the place but them right-now, will you give them a hand then? They wished not to wait for their friends to solve this so go ahead and help them.
2022 New Year Episode 1 is the newest point and click indoor escape game created by Games 2 Live.
Other games by -
Walkthrough video for 2022 New Year Episode 1